The state National Oil Corporation (NOC) participated with a delegation of 28 representatives of its subsidiaries and 23 private Libyan oil and gas companies participated in the Offshore Technology Conference in Houston, Texas, USA, from 1 to 4 May.
In an exclusive interview with Libya Herald, the head of the private sector business association, the Libyan Council for Oil, Gas and Renewable Energy (LCOGRE), Khalid Ben Othman, said that this large participation and good attendance by representatives of the Libyan oil sector comes within the framework of familiarisation with the latest modern technologies in the field.
Ben Othman added, the participation aimed to benefit from global expertise and learn about the latest modern technologies provided by this global event in the field of marine technology development in the oil and gas sector.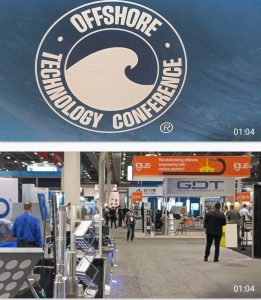 Libya needs high technology to increase production to 2 million bpd
He stressed the importance of attending such global events in providing opportunities to meet with many delegations of the giant oil companies in the world. These offer very high technologies in the field of oil that Libya needs in implementing a plan to increase its daily production to a ceiling of 2 million barrels per day.
The event also offered the opportunity to meet with representatives from the US Department of Commerce and officials of international companies, maritime organizations and participating bodies.
Participation in discussion sessions
The LCOGRE head revealed that the Libyan delegations also participated in the discussion sessions and events accompanying the conference to exchange ideas and acquire technical knowledge through communication with experts from around the world. He said many ideas were put forward about the oil and gas sector and the petrochemical industry within the framework of the future vision of the NOC as well as the LCOGRE.
Ben Othman said the Libyan delegation's interests at the event included searching for the latest interactive technologies in the areas of reducing the carbon footprint, reducing emissions harmful to the environment, getting rid of gas flaring, green fuel, and renewable energy projects.
The LCOGRE head welcomed the NOC's plans to raise oil and gas production by providing a good environment for the work of giant foreign companies, especially several American companies that have long experience in the field of oil and gas and work inside Libya.
He felt certain that restoring confidence in the Libyan oil sector will reflect well on its development and give positive results that benefit the Libyan economy. This, he noted, will only come with concerted efforts between the public and private sectors in the field of oil and gas.
Benghazi Chamber of Commerce to lead delegation to Houston OTC (libyaherald.com)
Tripoli Chamber of Commerce and AmCham Libya to lead a delegation to Houston OTC (libyaherald.com)
LCOGRE is participating with 16 Libyan companies at OMC 2021 in Ravenna, Italy (libyaherald.com)