The Italian embassy in Tripoli organised a concert for leading Italian musician Enzo Avitabile last night at the Red Castle (Assaraya Al-Hamra). The event, co-organised by the Libyan Department of Antiquities, included Libyan artists Nidal Fathi Kahloul and Aimen Al Shaatani.
Collaboration across the Mediterranean
Nidal is famous in his own right, gaining popularity in the series Assaraya about the Karamali Ottoman ruling family of Libya in the 1800's. He is also the son of the famous actor and comedian in the 1980 and 90's, Fathi Kahloul.
Nidal and Aimen performed a few songs in Libyan but more importantly they performed a few bi-lingual collaborations with Enzo which pleased the 200 or so guests, who were encouraged to stand, clap and sing to the catchy tunes.
The bi and tri-lingual song collaborations (Italian, Arabic and English) highlight the cross Mediterranean theme that the Italian embassy likes to stress in its events over the years. It underscores their common bridge-building efforts between the Libyan and Italian people.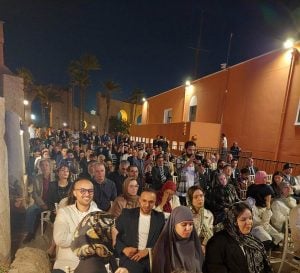 Another landmark cultural event
The concert marks another landmark cultural event held by the Italian embassy in Tripoli. It follows on from the three other Italian cultural events held last year by the Italian embassy: ''Italy – Libya: Cuisine between the two shores of the Mediterranean'', ''The first Italian-Libyan Friendship awards, the Marcus Aurelius Arch Awards'' and the travelling Italian exhibition, ''3CODESIGN-3Rs_Reduce_Recycle_Reuse''.
The embassy also celebrated Italian Design Day in March at the Urban Expo and Forum 2023.
Italian permanent presence in Tripoli
The events exhibit the excellent use of Italian soft power in Libya to win hearts and minds through cultural events such as music, history and food.
They show the advantage of an embassy having a fully staffed permanent presence in Libya enabling the Italians to continue to set a positive standard for other embassies to follow with their cultural contributions to Libyan life.
The Urban Expo and Forum concludes its activities (libyaherald.com)
Italian architectural heritage and Italian Design Day: Italy's dual participation in the Urban Expo from 15 to 16 March (libyaherald.com)
Italian Design Day, Tripoli 15-16 March (libyaherald.com)
Italian embassy hosts a food cultural event in Tripoli to win hearts and minds (libyaherald.com)
First Marcus Aurelius Arch Awards and theatre performance raises the bar for cultural events (libyaherald.com)
Libyan Italian Chamber of Commerce meets Aldabaiba to discuss support for private sector (libyaherald.com)
Italian travelling exhibition ''3CODESIGN – 3Rs_Reduce_Recycle_Reuse'' 25 to 31 October at former Kings Palace (libyaherald.com)
Agents of Italian Industries exhibition 30 October to 2 November in Tripoli (libyaherald.com)
60 Libyan teachers complete Italian language training – another 30 will start training soon (libyaherald.com)
Italian Consul General Francesco Saverio De Luigi takes up his Benghazi post (libyaherald.com)
Ten Libyan youth start six month paid internship with Italian companies (libyaherald.com)
Italian consulate commences visa issuance from Benghazi (libyaherald.com)