By Mathieu Galtier.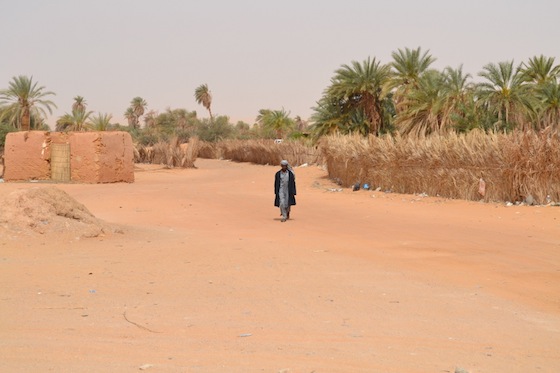 Tripoli, 13 April, 2014:
The school director rings the bell but only one teacher is there. Dr Lee . . .[restrict]examines a child even though he has only Paracetamol to give. Mohamed and Ramadan, the "engineers", can only pray that the motor belt will not break. Such gestures are basic but have a vital significance: to keep Rebyana on the map.
To get to this oasis inhabited solely by Tebus, located in south-eastern Libya, is an expedition in itself. First, there is a flight to Obari, because Sebha airport is closed. Then there is a two-hour drive to Murzuk, the Tebu stronghold 175 kilometres south of Sebha. After that, it is a 20-hour trip in a 4×4 vehicle through rocky and sandy desert. After about 800 kilometres, palms trees and dried-branch fences appear on the left: Welcome to Rebyana .
Since the end of the revolution, neither politicians nor NGOs have made it to the 4,000-inhabitant town, according to local people. Yet, it is located only 150 kilometres from Kufra, the main town in southeast Libya, which has an airport. But Kufra is under the control of  Zway tribe who have been in conflict with Tebus since the end of the revolution.
In January, violent clashes resumed. The Zway, whose leaders have refused to receive journalists in Kufra "for security reasons", have blocked access to the two main roads to Rebyana (via Tazerbu and Kufra) – which explains the lengthly roustabout journey to reach Rebyana. From Murzuk to there and back we had to take 600 litres of petrol with us. Sitting on a plastic chair, Musa Abdelkarim looks at barefooted children playing football. The dusty pitch has stones instead of goal posts. As a shop owner, he doesn't have a lot of work. The metallic shelves are almost empty. Consumers can buy only pasta, cans of tomatoes, oil and fruit juices.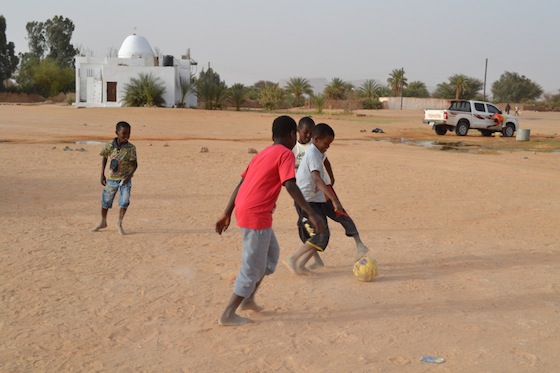 "Goods are supplied from Murzuk or Sebha since the access to Kufra have been closed. They need five or six days to arrive, then I have no more fresh products like yogurt to sell,"  he says despondently.
An unwritten rule says that visitors come with their own food and a extra gift for the locals.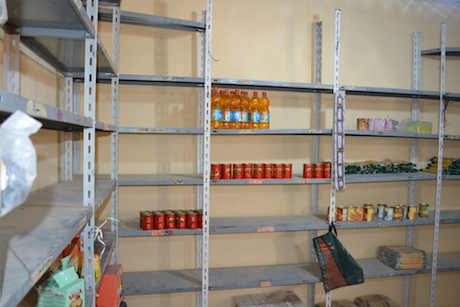 Abdallah brought a pressure cooker for his family. Like his friends Mahmoud and Tayeb, he was born in Rebyana but he currently lives in the Murzuk area. They make the journey about twice a month.
"There's nothing here. We're young. we must experience life before returning to Rebyana", Mahmoud says.
Mohamed Tayeb Musa, Abdallah's father, understands but his son's visits are essential to him. He is 93 and has a crippled right leg, he can hardly rises from the mattress. A rope hanging above his bed helps him to stand up. But he needs a someone person to go to Kufra to get his pension. Only young men can take the risk. Even though the blockade is not total, entering the Zway stronghold remains perilous for Tebus who have to stay in the Tebu areas of Kufra.
It is clear that there is an exodus from those areas if the arrival of new students in Rebyana from Kufra is anything to do by.  Their families left Kufra in January. The school in Rebyana now has 460 students from primary to high school level.
Extra children is not the biggest issue that Khamis Juma, the director of the school, has to face. Five out of seven teachers are on strike because they have not been paid since September. "The money is in Tripoli and then has to be be transferred to Kufra … ", he tells Libya Herald, explaining the impasse.
Pending a resolution of the issue, he tours the classrooms and oversees teacherless students  waiting in silence in their dilapidated classrooms until the end of the school day.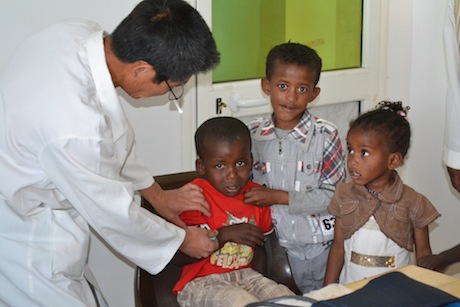 Dr Lee and Dr Kim, both South Koreans, also face a lack of resources. Other than Paracetamol, they do not have a great deal of medicines and medical material to offer to patients. The "operating room" is actually a mere stretcher covered with plastic. The long awaited electric generator has been stuck in Kufra for two months. Serious but non-critical patients cross the desert to be treated in Murzuq or Sebha hospitals. "I drove patients who died on the way," Saad Abdelrassul Abdallah, a professional driver, says.
"The most frequent cases are stomach disorders due to poor water quality, especially among the children," Dr Lee explains.
The lack of water and electricity are the two main reasons why Rebyana is in such a dire state. Electricity is supplied for only few hours a day, and alternating between  the two parts of the town, by a single Längerer & Reich generator, dated 1976 . It uses 250 litres of petrol to give electricity for 50 hours. It is maintain by a handful of self-proclaimed "engineers".
"Gecol, (the state-owned electricity company) promised a new generator back in 2010, but it is still in Tripoli," Ibrahim Younis, the head of Rebyana Local Council, complains.
Last November, Tebu demonstrators started blockading the Sarir power station. One of their demands was that Rebyana be connected to the national grid. The protests were finally ended in January following negotiations the previous month with the man who is now Prime Minister, Abdullah Al-Thinni, in which it was agreed that as a temporary measure a 1.5 MW generator would be sent to the town. It has not yet arrived.
Ramadan, a 78-year-old farmer, laments the lack of water. It is drawn from a well by an electric pump that nobody can remember when it was installed. The water table is now down to 20 metres. The old farmer shows his fields. They are nothing more than sandy ground although it is still possible to notice the irrigation furrows.
The water tanks have been empty for years because Rebyana suffers also  from desertification.
If Rebyana disappears, it is not only the town which will die, but also the presence of Tebus in eastern Libya. Rebyana is the last fully Tebu settlement in the area.
"The end of Rebyana could be a pretext for the Zway to drive us away from the east. Above all, they want us to remove from Sarir oil site which we have protected since the revolution", Adam Kerki, the president of Tebu National Assembly, says. Kerki accuses the government of helping the Zway at the expense of Tebus.
(In his latest report, Libya's Fractious South and Regional Instability, researcher Wolfram Lache, focuses on fighting between Tebu armed groups against Zway-based groups, as well as units of the Libya Shield force [officially under the direction of the Ministry of Defence].) 
Young Tebus, much more so than older ones, are receptive to federalist ideas of the self-proclaimed Cyrenaica Political Bureau led by Ibrahim Jadhran.
"We do not support the government, we defend Libya," says Suleiman Mohamed Brahim, the head of the 402 Brigade which serves as local police, ambiguously.
Among all these obstacles, a coup de grace is firmly struck by a young girl with a pink schoolbag.
"Rabyiana, it is not a good town. It is not a big city like Benghazi or Sebha," she says, spontaneously offering her views to reporters.
She wants out. And among the young Tebus, especially those who have come from Kufra, she is not alone. [/restrict]