Libya Herald staff.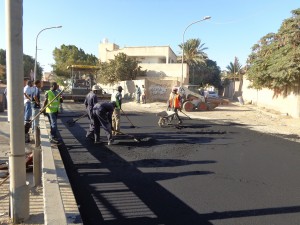 Tripoli, 11 April 2014:
The head of Sirte Local Council, Abdelfatah Siwi confirmed yesterday that a number of projects valued . . .[restrict]at LD 50 million will be implemented in the city in 2014.
Siwi told LANA that a number of infrastructure projects will be implemented under the supervision of the Ministry of Housing and Utilities and that these will include the establishment of water and sanitation networks, roads, parks, and green spaces.
The head of Sirte Local Council also pointed out that priority will be given to local contractors in the implementation of these projects, if they are qualified.
The meeting was also attended by the head of HIB, Mahmoud Ajaj, who is also currently acting as Minister of Housing and Utilities. [/restrict]