The Italian embassy in Tripoli launched the World Italian Cuisine Week from 13 to 18 November with an impressive seven-course taster lunch for Libyan media on Monday.
The seven-course meal included three main courses twice, once in Italian style and once in Libyan style, and a desert, again in both variations. The food was prepared by Italian chef Simone Marchi and Libyan chef Sami Al-Jaziri.
The Italian embassy explains that this annual thematic event is dedicated to the promotion of quality Italian cuisine and agri-food products, promoted by the Ministry of Foreign Affairs and International Cooperation and by the network of Embassies, Consulates, Italian Cultural Institutes and Italian Trade Agency ITA/ICE offices abroad.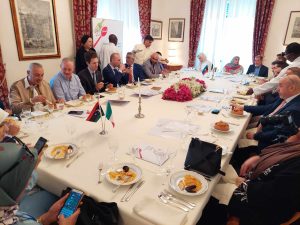 Showcasing common Italian and Libyan dishes
The theme chosen for this year's edition is "At the Table with Italian Cuisine: Well-being with Taste" with a specific focus on the culinary traditions that Italy and Libya have in common and whose dishes are the expression of a common cultural identity.
The Embassy says it will organise a rich programme of events together with the ITA/ICE Agency – Desk Tripoli, in collaboration with the Administration of the (Tripoli) Old City.
Italian square and cooking master classes
These events will take place from 15 to 18 November in the evocative setting of Dar Abdallah Crista, in the historic centre of Tripoli, set up for the occasion in the style of a real "Italian Square". Stands selling gastronomic products, tastings, master classes, show cooking for adults and children, dedicated menus, and promotional videos will accompany visitors on an extraordinary journey through the flavours and smells of the Italian and Libyan culinary tradition.
Top chefs performing live
The evenings will be animated by the well-known Libyan chef Sami Aljaziri, host of the television programme "Sale e Zucchero" on Salam TV, the Italian chef Simone Marchi and the chef Leopoldo Sommese. They will give live cooking lessons, tastings and show cooking during the evenings, not only to share the richness of Italian food but, above all, to enhance its ingredients and its origins, thus presenting dishes and recipes that unite Italian cuisine with Libyan cuisine and, more generally, the Mediterranean countries.
Cuisine as a positive cultural tool
"We are thrilled to present this special event in Tripoli," says the Ambassador of Italy in Libya Gianluca Alberini. "An important opportunity to demonstrate how much cuisine can be a tool for cultural and tourist promotion and, at the same time, for aggregation between peoples, cultures and traditions".
Italian cinema
In line with the action pursued by the Italian Embassy to strengthen cultural cooperation between Italy and Libya, the week's programme also includes a review of contemporary Italian cinema organized in collaboration with the General Body of Libyan Cinema, Theatre and Art, which is scheduled to open on November 15th at the Bab Albahar hall.
Some cinematic successes from recent years will be previewed from 15 to 18 November, in the original language and with subtitles in English and Arabic, representative of recent Italian film production, which the embassy says is an opportunity to relaunch Italian cinema in Libya.