By Houda Mzioudet.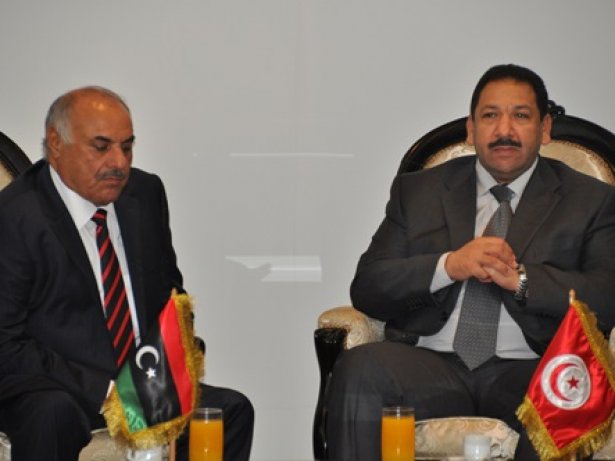 Tripoli, 13 April 2013:
Reports that the ten senior Qaddafi officials wanted by Libya have been handed over by Tunisia . . .[restrict]appear premature.  The Tunisian ambassador has told the Libya Herald that the ten, who have not been named, would be extradited only when legal formalities were complete.
So far there is no sign that has happened.
According to the Ministry of Interior website,  Tunisia  agreed the extradition of the ten during talks last Wednesday when Acting Interior Minister Saleh Mazegh and Tunisian Interior Minister Lotfi Ben Jeddou met in Tunis. They discussed both the presence of former regime officials in Tunisia and recent disruptions at the Ras Jedir border crossing.
According to the Tunisian radio station Radio Tataouine the two men agreed to a review of all security arrangements between Tunisia and Libya since the 1984.
They also agreed that a joint committee should be formed to manage problems and disputes at the Ras Jedir, which has been closed on frequent occasions, and the commissioning of a Supreme Joint Security Committee to combat terrorism, illegal immigration and smuggling between the two countries.
At the time, Jeddou said Tunisia would consider the extradition of individuals wanted by Libyan authorities, in particular ten former regime officials alleged to have been involved in recent instability on the border, but ultimately this decision would have to be made taken by the Tunisian President.
The Tunisian Ambassador to Libya, Ridha Boukadi, told this paper that extraditions of Qaddafi officials could only be achieved "through Interpol and official legal channels, with the guarantee that the right to due process would be protected".
He said he the current weakness of the Libyan state and its institutions was troubling and added that he had last met with the acting Libyan Interior Minster in the aftermath of the abduction of the Tunisian diplomat Mohamed Ben Cheikh.
[/restrict]