By Libya Herald staff.
By 13 April 2014: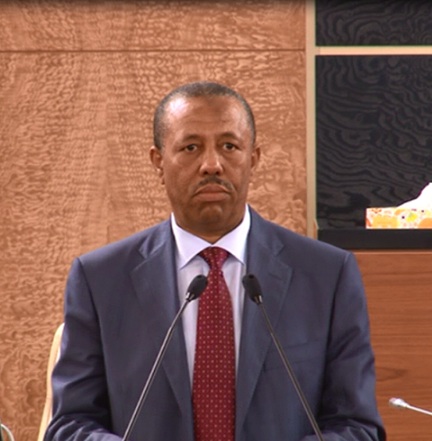 Prime Minister Abdullah Al-Thinni will resign as soon as the General National Congress (GNC) can . . .[restrict]choose a replacement, following an attack last night on his family home.
"My family and I suffered a brutal attack last night and shooting terrified local residents and put lives in danger," Thinni said in a letter addressed to the GNC and published on the official Prime Ministry website. "I will not accept one drop of blood to be spilled because of me and I will not allow myself as Prime Minister to be a reason for Libyans fighting."
Thinni said that, out of deep respect for Libya, he was not prepared to drag different sides into a fight that nobody could win. He said he wished the GNC luck with choosing the right person for the job and someone who would serve the interests of Libya.
Thinni will continue to act as Prime Minister until the GNC chooses a replacement, Prime Ministry spokesperson Ahmed Lameen told the Libya Herald.
A source close to the government said that last night's attack terrorised Thinni's neighbourhood, with shooting outside his house. His car was also reportedly stolen. [/restrict]